Top 5 Ways of Preventing Glass Scratches on Your Business Property in Orange County, CA
Who doesn't want their business property to look at its best?
Every business owner has this requirement but needs to learn how to do it. The pristine glass surfaces are the first things that contribute to the beauty of the business property.
If you enter some commercial premises and find the glasses are scratched and stained, would you like that?
Of course not!
Scratched and stained glass surfaces make the entire commercial building look dull. An expert in glass scratch repair in Orange County CA, associated with Glass Polish Services has given 5 proven ways to maintain the glass surfaces of a commercial building.
Preventing scratches on your glass before the requirement for glass scratch repair in Orange County CA arises
Getting scratched glass repaired or replaced costs quite a lot; this is why every business owner must know how to stop scratches and stains from taking place on glass surfaces. Here are some of the easiest ways to avoid glass scratch removal in Orange County CA.
Use protective films
You can opt for protective films that are made of clear as well as durable material. These films protect your glass surfaces and prevent scratches from occurring. The protective films can be applied directly to the glass of your commercial building. It works as a barrier against chips, scratches, and other damages.
But there are so many types of protective glasses! Which one to opt for?
Don't be confused! There are various types of protective films available in the market and each has unique properties. Some protective films are designed to block ultraviolet rays whereas others are designed to provide extra strength and resilience to glass surfaces. Look for all the options and choose the one that suffices your needs.
Keep glass surfaces clean
We all know that there's no better way to keep glass surfaces scratch-free than cleaning them on a regular basis.
But before doing such, you must be well aware of how to clean glass surfaces. If you try to clean it with a cloth that already has particles in it, the scratch will for sure take place. Over time, dust and dirt scratch glass surfaces and this is why keeping them clean becomes extremely important.
You need to take a soft and lint-free cloth and rub the glass surfaces softly on a regular basis to keep them clean as much as possible.
The above-mentioned process works when it is about cleaning small glass surfaces. For cleaning storefront windows or other large glass surfaces, hiring a professional is a wise decision, says an expert in glass scratch repair in Orange County CA An experienced professional will make sure that no damage or scratch is caused during the cleaning process.
Use caution while moving solid objects near glass surfaces
While moving some equipment or furniture near the glass surface, do not forget to use caution. This step will definitely help you to prevent scratches and other damages from causing. Never drag solid and sharp objects across the surface, try lifting them.
Even when people come into contact with glass surfaces, they can be damaged; always use caution and avoid scratches and other damages from taking place. Use padding if possible or a moving blanket for protecting glass surfaces during the time when you move some solid object near the glass surface.
Install protective barriers
You can any day install protective barriers to protect your vulnerable glass surfaces.
But what are those protective barriers?
Screens or railings are the protective barriers that can be placed in front of the glass surfaces of your business property. The barriers can absorb the impact of any damage or scratch and can assist you in keeping your glass surfaces scratch-free.
You can opt for protective barriers made of plastic, metal, solid glass, or some other material. Try choosing a protective barrier that is specially designed to protect your type of glass surface.
Replace damaged glass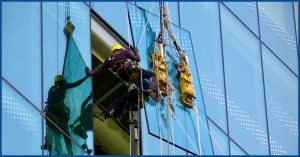 Keeping scratched or damaged glass can make your business property look unsightly and unattractive. This can also cause a loss in business as a client might cancel o project after visiting your office premises. To avoid such situations, you can either opt for glass scratch repair in Orange County CA, or may replace the scratched glass.
Damaged glass surfaces are prone to more scratches and accidents. So, replace the same with high-quality glass that has resistance power against scratches and other damages.
Conclusion
For maintaining a professional appearance of your business property, it is essential to prevent glass surfaces from scratch and other damages. By using the hacks mentioned above you can definitely keep your business property attractive or else, you can any day get in touch with the experts in glass scratch repair in Orange County CA associated with Glass Polish Service.